In honor of the one of the greatest Austin events, South By Southwest, I decided to seize on the opportunity to sit down with a few interesting out-of-towners. Because everyone is super busy, trying to cram in as much learning, interacting, sharing, dancing and partying as possible, the coffees were short – 15 minutes each – therefore the stories are a lot shorter than usual. But even though our time together was brief, I was still inspired by each person and I hope you will be as well.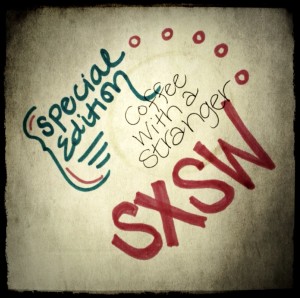 Enjoy the special SXSW edition of Coffee With a Stranger.
Aside from meeting amazing people, SXSW is multi-faceted, and I wanted to get in on both sides. There is the interactive component as well as the music.
I was not a badge-toting participant, this time around. But that doesn't mean you don't get in on tons of great events. In fact, I don't mean to brag, but I have yet to stand in a line for any longer than 5 minutes. Whereas that seemed to be how the majority of South by goers spent many of their hours.
Here are my highlights: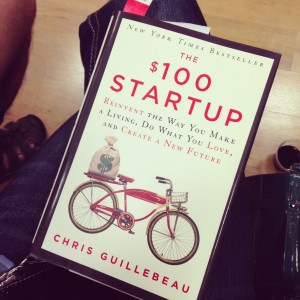 Chris Guillebeau was speaking and signing books at BookPeople, just around the corner from my house. His book, The $100 Startup, is a must read for any entrepreneur. He is an incredible dude, on a mission to empower people to live their dreams, start businesses and live fearlessly. He's one country away (Norway) from achieving his goal of visiting every country in the world by his 35th birthday, April 7, 2013. He will mark the completion of this goal with a huge celebration that you are all invited to. Check out his website to get all the amazing details on this and all the other incredible balls he's got in the air. Obviously this dude doesn't sleep.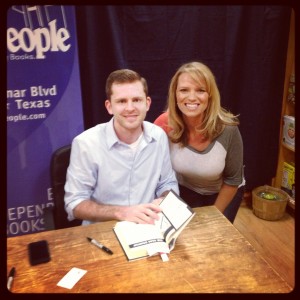 As a side note, this was the first book signing I'd been to where they served two of my favorite things, beer and cupcakes. Gotta love Austin!
The next chunk of awesome came in the form of an event called SXSW Startup Crawl. As the name suggests, there are copious amounts of adult beverages flowing and if you aren't careful, you won't be upright for long.
Since we are cuckoo, we aren't imbibing these days. It's temporary, folks, so no need for alarm. However, this did not stop us from having a great time at the crawl. We heard from many enterprising start-up bootstrappers about the countless ways their businesses are going to change the world.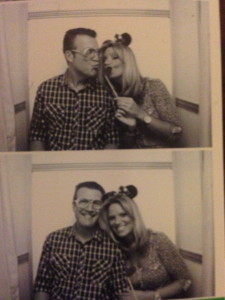 Some of the notables include: Ordoro, Lingo Live!, Engine, GoodyBag, WP Engine, Pivit, Clickjolt, and Taskbox. We'd be here all day if I were to try to summarize every one, so I encourage you to click their names to learn more about each of them. They are all remarkable and are at various stages of business. Some are so new they are still days away from launching; while others have been going for a bit. I just read that Taskbox recently received $600,000 in funding, so kudos to them!
Finally, I have to tell you about the most incredible day of SXSW for me. My pal and Cup 14, Chris Perez invited Dave and I to an event called Sofar Sounds.  Here is how this magic is described according to the website:
We have created a movement which brings music lovers together in secret living room locations to hear some of the world's most cutting edge artists. In order to create an intimate and spellbinding atmosphere, we ask that nobody talk during performances.  We've held these pop-up gigs in over 18 cities worldwide. Come and enjoy them with us.
Enjoy we did! Chris was kind enough to invite us to the pre-event party where he prepared a lovely spread of smoked chicken and pork and all the fixin's, as a treat for the bands and a few extras. He also curated an art show, and we were able to walk around his home and check out incredible art work from some of his favorite local artists. Check out his site to see some of the art he featured.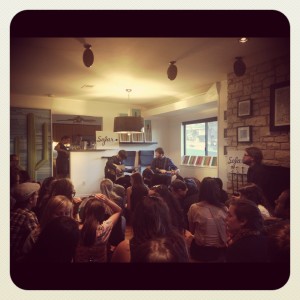 I cannot even begin to explain just how incredible it was to hear the musicians play their hearts out in the intimate setting of Chris' living room. As much as I appreciate wonderful music, I have to admit, I am not one who is up on music trends. So for me, these musicians were all new. I loved each of them and judging from the vibe in the room, so did everyone else!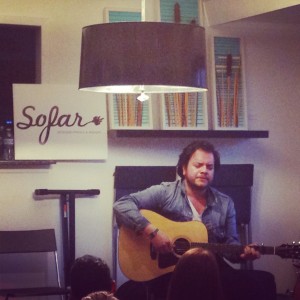 I encourage you to listen to and buy their music. Here are some links so you can enjoy them for yourselves.
The Ghosts, David Ramirez, Pearl and the Beard, SHEL